These quotes on happiness can uplift your mood on a terrible day.
It is easy to be happy when things are going your way. When your child makes good grades, it is easy to be happy. When you get the promotion at work, it is easy to be happy. Once you reach a goal you have been working on for a long time, it is easy to be happy. It is when things don't go your way that being happy is harder to achieve.
Happiness is a decision made daily. Studies show that 40% of happiness is from life circumstances that affect your emotions. Through it all you can choose your reaction. Choosing to be happy through difficult times takes a mental decision to see the good within the bad. It takes determination to choose happiness over other negative emotional choices.
ADVERTISEMENT
Here are some quotes on happiness that will boost your mood: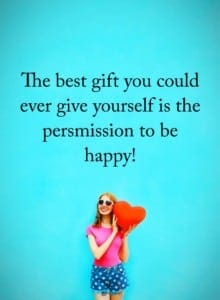 Best Happiness Quotes on Love
"There is only one happiness in this life, to love and be loved."
– George Sand
"Love is when the other person's happiness is more important than your own."
– H. Jackson Brown, Jr.
"If you want to have a happy life, tie it to a goal, not to people or things."
– Albert Einstein
Quotes on Happiness in Daily Life
"Happiness is not something you postpone for the future; it is something you design for the present."
– Jim Rohn
"It is the ultimate luxury to combine passion and contribution. It's also a very clear path to happiness."
– Sheryl Sandberg
"Be happy for this moment. This moment is your life."
– Omar Khayyam
"I wish you joy and happiness. But above all of this, I wish you love."
– Dolly Parton
"Happiness cannot be traveled to, owned, earned, worn or consumed. Happiness is the spiritual experience of living every minute with love, grace, and gratitude."
– Denis Waitley
"Some days are just bad days, that's all. You have to experience sadness to know happiness, and I remind myself that not every day is going to be a good day, that's just the way it is!"
– Dita Von Teese
The Best Happiness Quotes on Friendship
"Friends show their love in times of trouble, not in happiness."
– Euripides
"A friend is someone who gives you total freedom to be yourself."
– Jim Morrison
"The most important thing is to enjoy life – to be happy – it's all that matters."
– Audrey Hepburn
"A true friend knows your weaknesses but shows you your strengths; feels your fears but fortifies your faith; sees your anxieties but frees your spirit; recognizes your disabilities but emphasizes your possibilities."
– William Arthur Ward
Quotes on Happiness and Wisdom
"Our happiness depends on wisdom all the way."
– Sophocles
"If you want to be happy, be."
– Leo Tolstoy
ADVERTISEMENT
"If your happiness is contingent on someone else changing their behavior, then you are playin yo'self, henny."
– RuPaul Charles
"The secret to happiness is freedom…And the secret to freedom is courage."
-Thycydides
Happiness Quotes on Making the Decision
"Happiness doesn't depend on any external conditions; it is governed by our mental attitude."
– Dale Carnegie